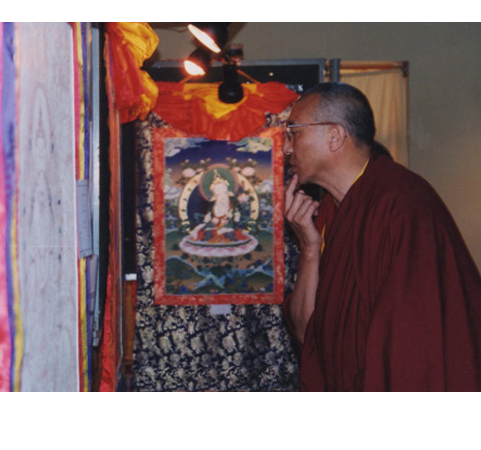 My first exhibition , Dharmsala 1997
The venue was Tsug Lha Khang (main temple) and was inaugurated by Ven Alak Tsaye (pictured) who was the then Minister of Religious Dept. This was one of the first times tibetan artists had exhibited their own works, 2 years in preparation, in association with fellow artists Migmar and Bhuchung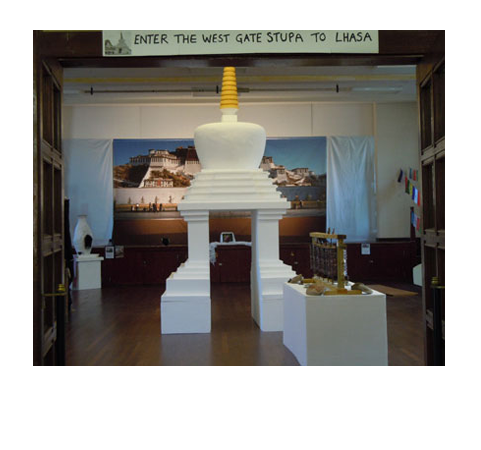 Tibet in London 2012 On the occasion of HH Dalai Lama visit to London, here is the west gateway stupa to Lhasa as a symbolic return to Lhasa for HH.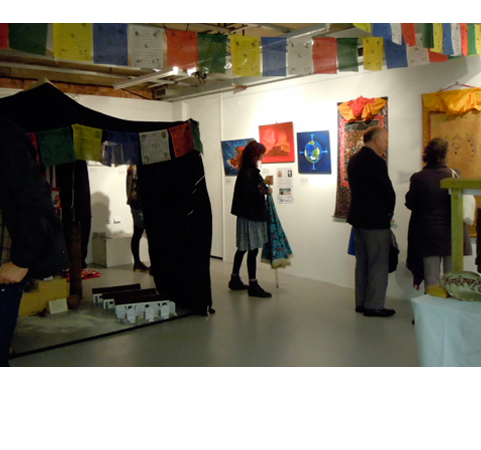 Tibet in Brighton 2013 A Range of Ugyen's art and installations, in association with Brighton Tibet Support Group and Tibet Society UK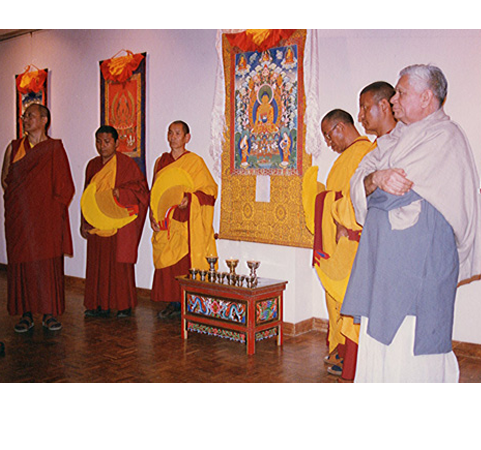 New Delhi 1997 Doboom Rinpoche and Lokesh Chandra open the exhibition in New Delhi with due ceremony.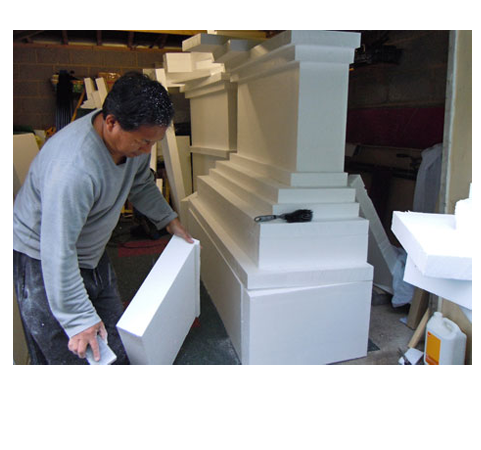 Tibet in London 2012 Piecing together a replica stupa of the Western Gateway to Lhasa. That's what garages are meant to be used for isn't it ?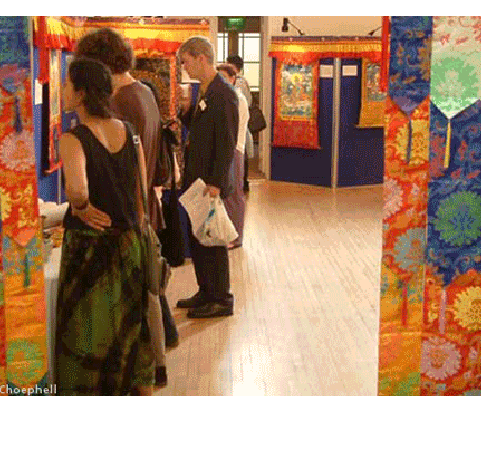 Tibet Arts Festival UK 2003 The Victoria Rooms in Bristol transformed tibetan style, entry into the thangka painting section. Bristol was the culmination of a series of exhibitions I took around the South West of England, Shrewsbury and N Wales. Tibetan culture brought to life with the help of the Monks from Tharlam Sasang Monastery, Nepal.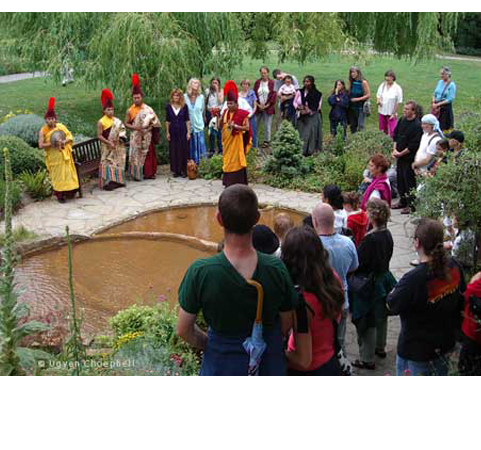 Tibet Arts Festival UK 2003 in Glastonbury The sand mandala is ceremoniously dismantled and the sand grains returned to water, here at Chalice Well, after the end of the festival in Glastonbury.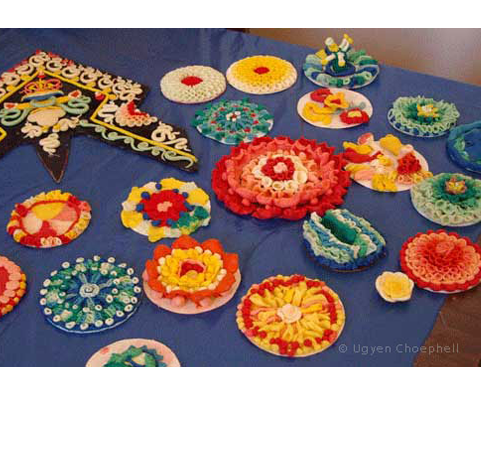 Butter Sculpture at the Tibet Arts Festival 2003 One of the aims of the Tibet Arts Festival was to bring tibetan art to life. All venues had live creation of sand mandala and butter sculpting and all visitors were encouraged to join in - pictured here are some of their butter 'masterpieces'.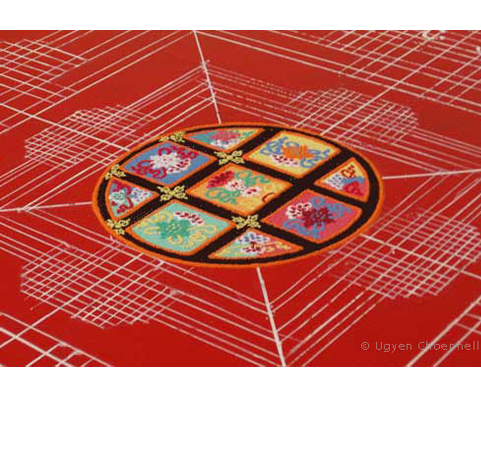 Tibet Arts Festival 2003 - Sand Mandala begins! At each venue the skilful monks from Tharlam Sasang Monastery created a sand mandala. Here it is at Day one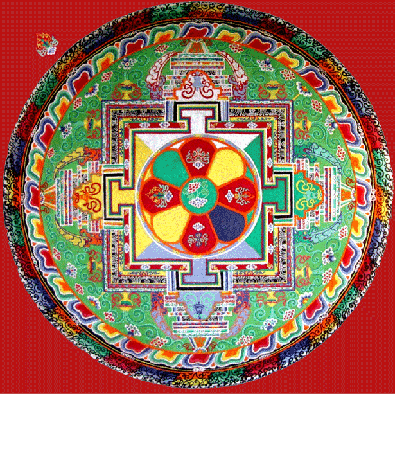 Completing the sand mandala Jamyang-la putting the final touches to the mandala,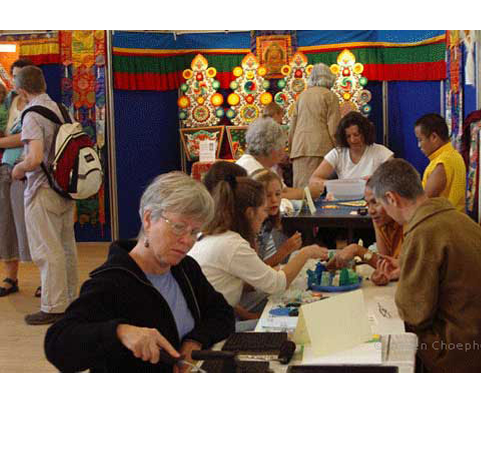 Prayer flag printing Visitors to Bristol expo enjoying printing prayer flags and butter sculpting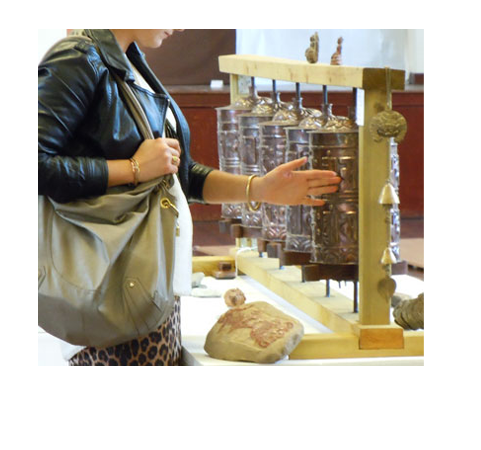 Tibet in London 2012 Visitors learning about and enjoying my prayer wheel installation.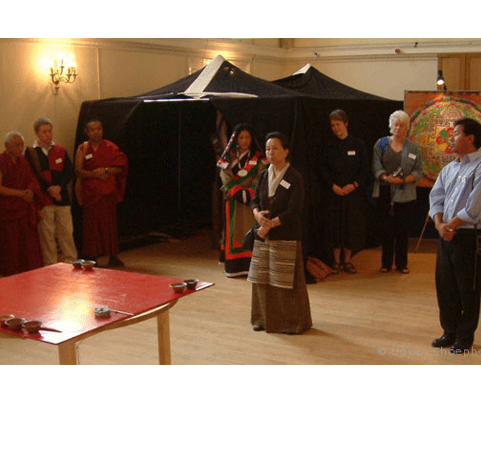 Opening the Bristol Exhibition I was honoured that Mrs Takla, Office of Tibet's representative in London opened the exhibition in 2003. Also thanks to Matt Gruninger, Arts Council SW and Visiting Arts for their help and support in this project.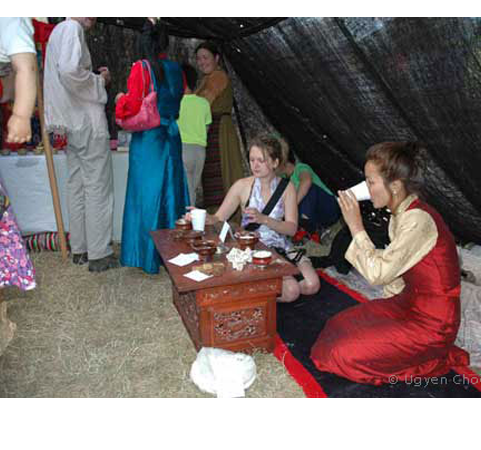 Tibetan Nomad tent on tour 2010 Tasters of tibetan butter tea on the occasion of His Holiness the Dalai Lama's 75th Birthday celebration in London. Visitors in the traditional black yak hair tent of the nomads of western tibet. This replica tent was stitched by my nomad family specially for showcasing traditional tibetan culture.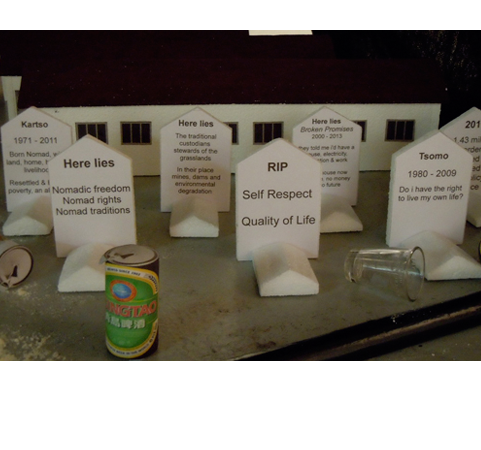 Tibet in Brighton 2013 Latest edition to the nomadic tent exhibit - highlighting some of the issues facing tibetan nomads today. My family is a nomadic family.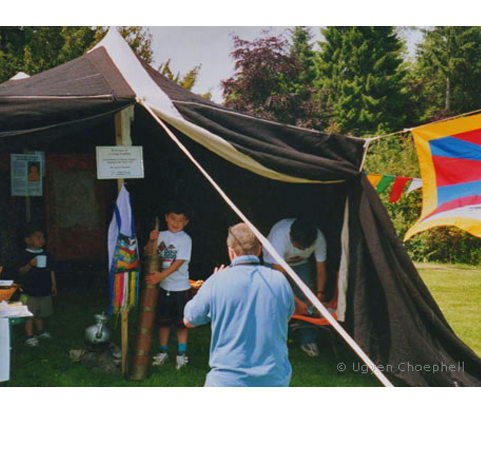 Nomad tent in North Wales 2002 My son demonstrates the art of churning tibetan butter tea, using a drongmo, for the local press, with the youngest one drinking it!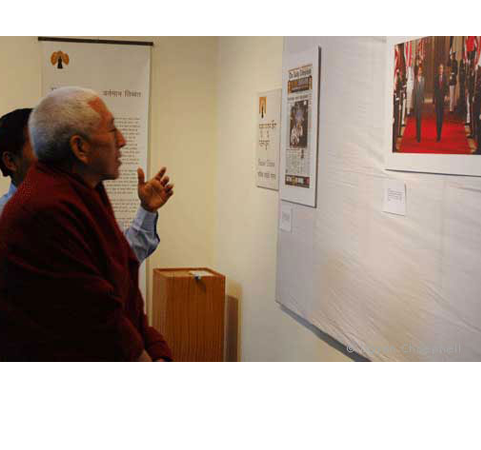 What if … ? 2007 Samdhong Rinpoche, the then Prime Minister of the Tibetan government in exile attends the opening of my exhibition of digital art in Dharmsala. Seen here looking at my vision of a future tibetan prime minister on a state visit to the US!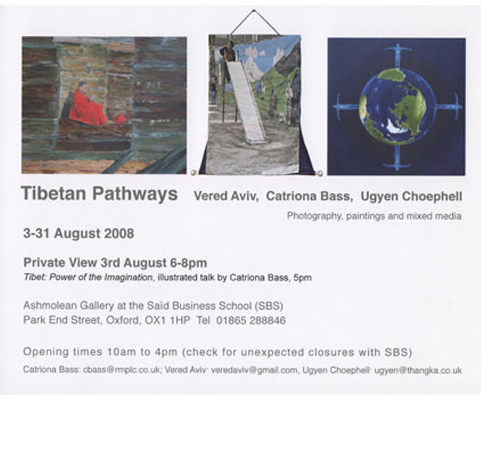 Tibetan Pathways Oxford 2008 Part of a 3 artist exhibition in Oxford, exploring the representations of Tibet as a place, a society and an idea. My traditional and modern art was on show as a view from a tibetan in exile.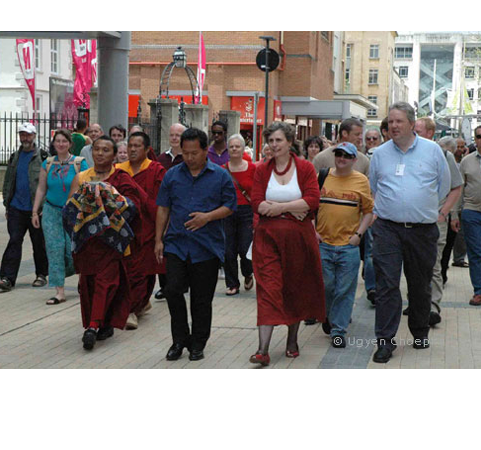 Sand Mandala Bristol 2009 Following a week of sand mandala creation in the Wesley Chapel in Bristol, the dismantling procession through the town centre.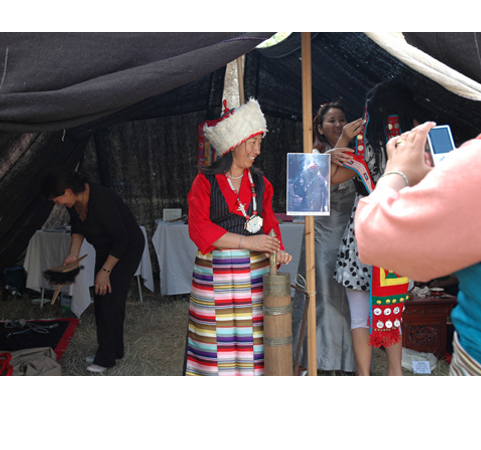 Tibet in London 2010 A new generation of tibetans experiencing the traditional life of a nomad, some bringing their parent's handed down memories back to life.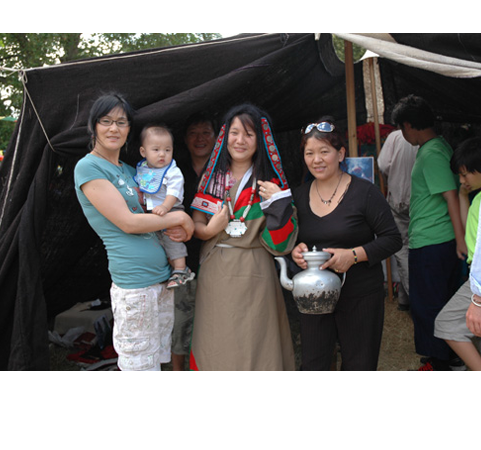 Tibet in London 2010 Tibetan community enjoying the traditional nomad tent, nomad dress and furnishings.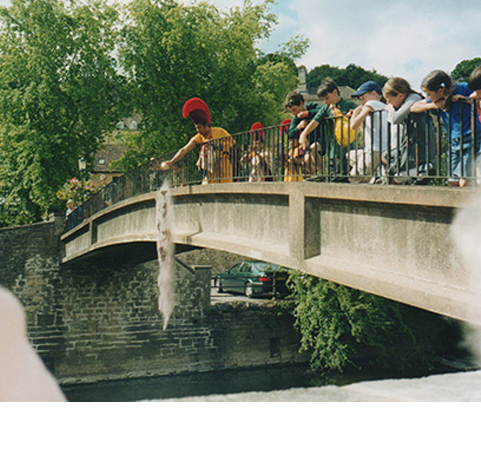 Tibet Arts Festival in Bradford on Avon 2003 Sand from the recently dismantled mandala created in town is sent back to the river amongst exhibition visitors.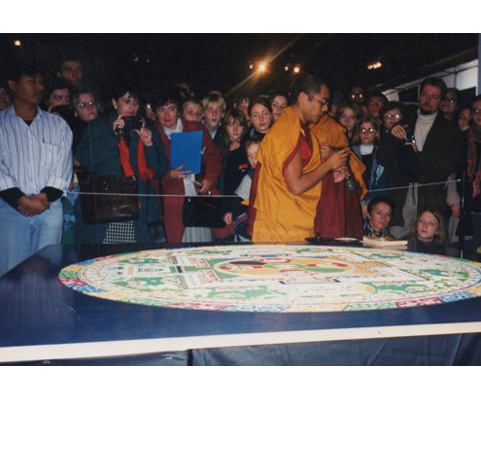 Poland 1997 I was honoured to be sent by the Tibetan Gov in exile from India to Warsaw to demonstrate thangka painting at this event, alongside the monks who were creating sand mandala. (Me left of picture!)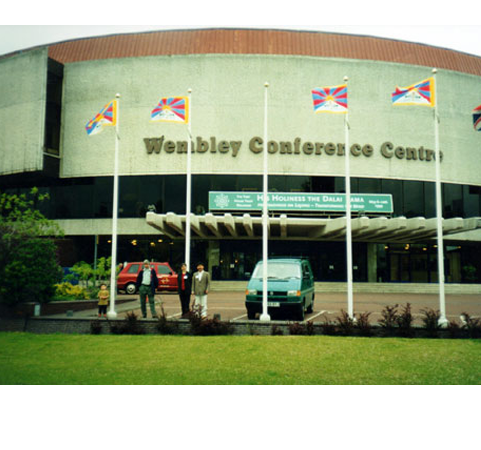 Wembley 1999 Excited family outside Wembley, on the occasion of His Holiness Dalai Lama's visit to London in 1999. My thangka paintings were exhibited inside the Conference Centre.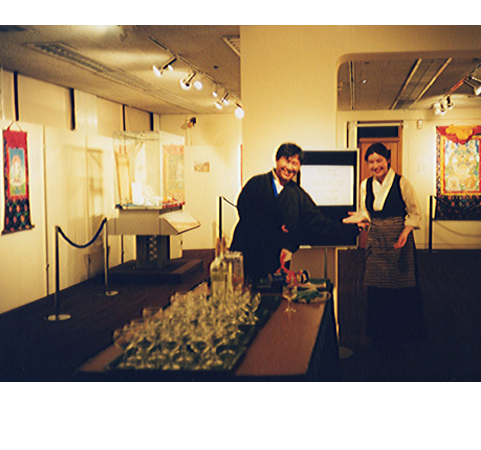 Llanberis 2000 Me and my wife preparing for the preview evening of my thangka exhibition held in Electric Mountain Visitor Centre, Llanberis, North Wales, shortly after moving to the UK.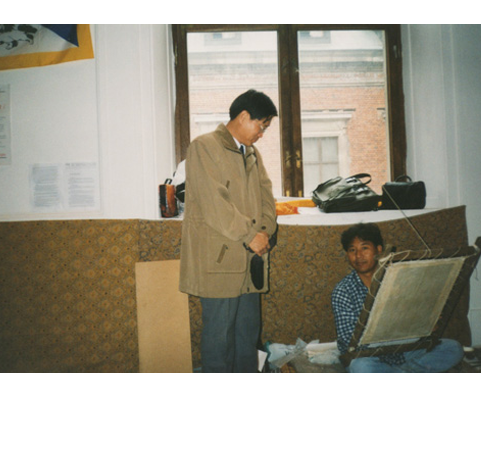 Poland 1997 Here at work, demonstrating the art of thangka painting at an exhibition in Warsaw, with an interested Chinese visitor.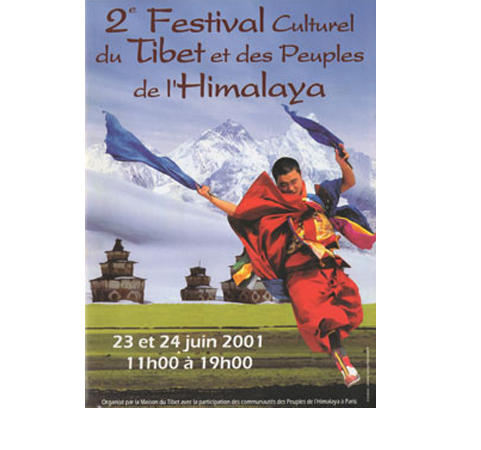 Paris 2001 I took my thangkas to Paris for the Festival of Tibet and the Himalayas.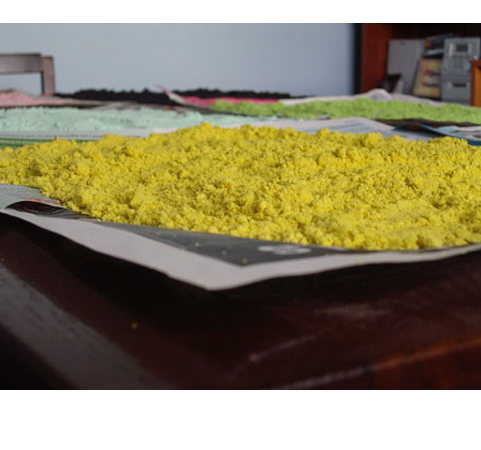 Sand Art Workshop: Bristol 2010 The coloured sand used for the mandalas and latterly in my sand art workshops is hand coloured - here is a batch in the drying process.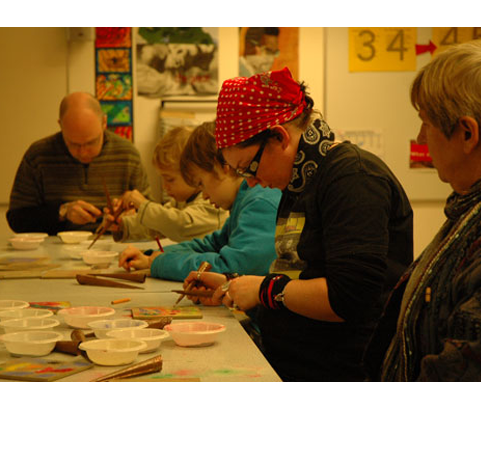 Sand Art Workshop: Bristol 2010 A modern application of a traditional art - using the basic philosophy of the tibetan art of sand mandala creation, adapted to enable a practical experience of this ephemeral art form for UK visitors and to experience the art of non attachment.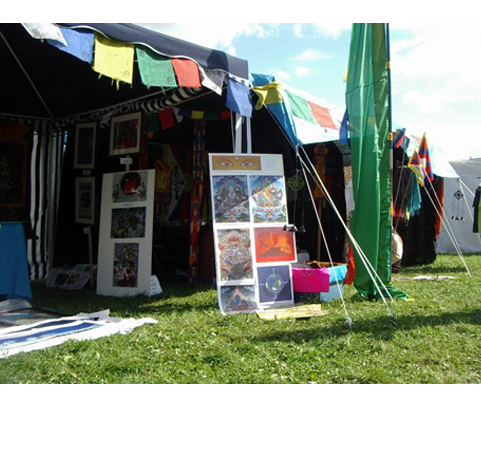 Summer festivals Ambitious in a tent with watercolour paintings in the British Summer weather, but as always Tribe of Doris summer camp was fantastic - and the sun shone too!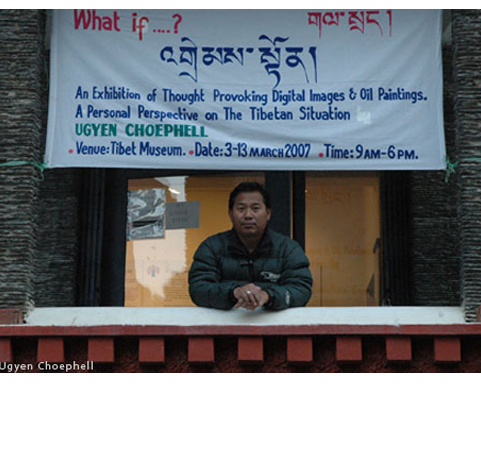 What If….. Inaugural exhibition in Dharmsala 1997 of work challenging viewers to think, What if this happened. Held in the run up to the 2008 Beijing Olympics - a small challenge to all their PR.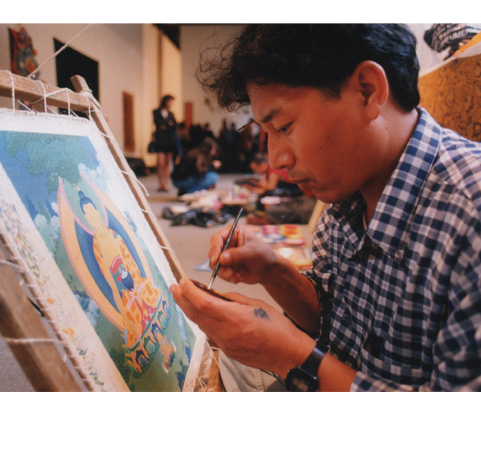 Poland A youthful Ugyen demonstrating thangka painting at exhibition in Warsaw 1997.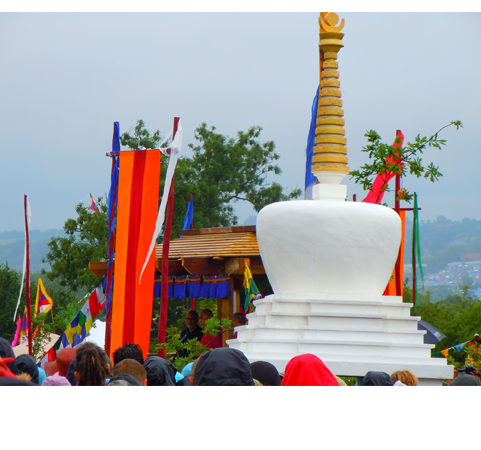 Glastonbury Festival On the occasion of HH Dalai Lama's address to Glastonbury, the symbolic west gateway stupa to Lhasa was next to him. May his wish to return to Tibet be finally fulfilled in reality not just symbolically.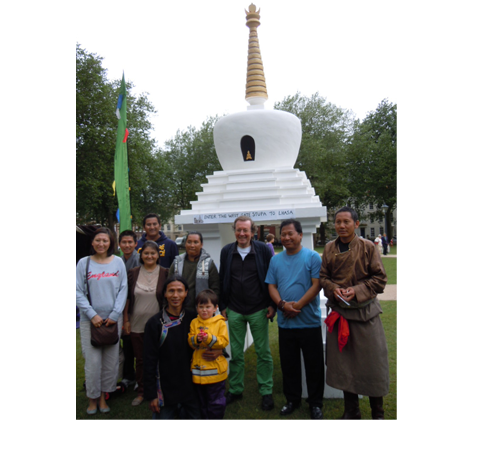 Queens Square Bristol As part of Celebrating Sanctuary Day for Refugee Week, the replica stupa was re-constructed and admired here by Bristol, the then Mayor, George Ferguson and some of Bristol's tibetan community.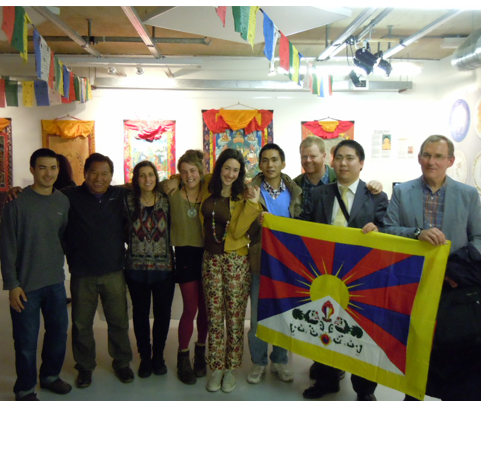 Brighton With organisers and participants at Brighton Tibet Group.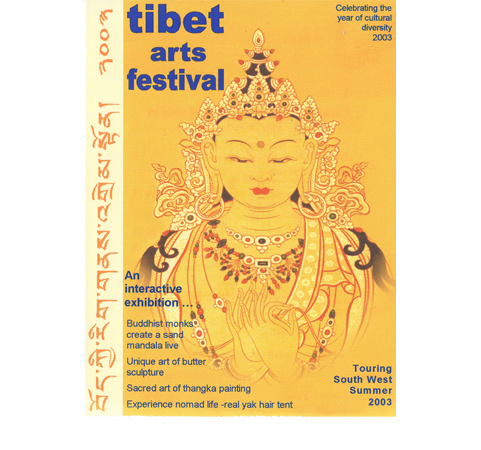 Tibet Arts Festival 2003 The Flyer for my touring festival showcasing tibetan art and culture.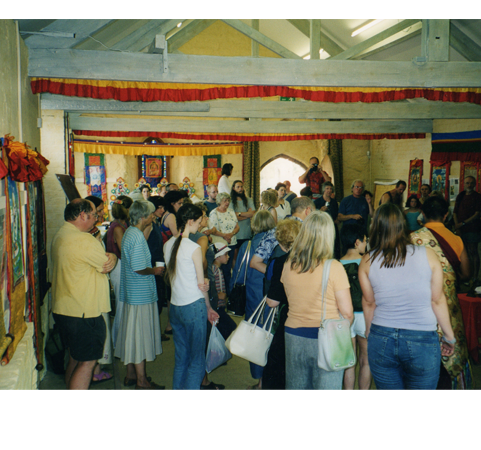 Shrewsbury 2003 Closing and dismantling ceremony of the sand mandala at Tibet Arts Festival in Shrewsbury.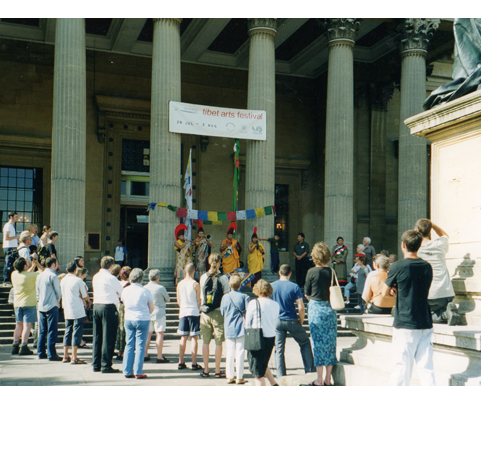 Bristol 2003 Visiting monks from Tharlam Sasang Monastery playing ceremonial gyaling at the Bristol leg of the Tibet Arts Festival 2003.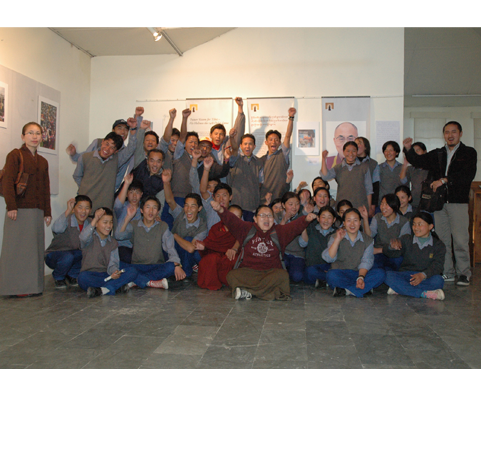 Dharmsala 2007 TCV class after visiting my 'What if ?' exhibition at the Tibet Museum.