journey of a Tibetan artist .... Ugyen Choephell
Project 2020
Proposal for new art installation in Bristol City Centre promoting unity, and encourage looking beyond labels. Metalwork installation to be based on the original painting below.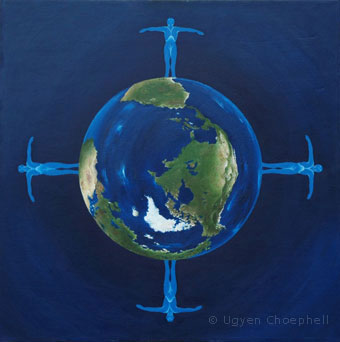 Proposing that this new artwork be commissioned by Bristol to stand on the now empty plinth of the statue of Edward Colston, bringing a universal message of harmony and bringing people of all communities together in peace. Hoping this might work towards eliminating some of the divisions that exist within our society.
This piece will depict the world, but not as usually seen, instead asking the viewer to see the world from different perspectives.
All images (C) Ugyen Choephell